Lawn Services
Get your LAWN IN ORDER.  From a New Sod Application to a complete or a sod restoration, we can help!  We apply only the top sod in the industry.  We special order all our materials direct for the supplier to insure the best application possible. It is made to grow and guaranteed. We can create a lawn that meets your needs and can keep it looking great all year long with our maintenance service packages.
Lawn Aeration Services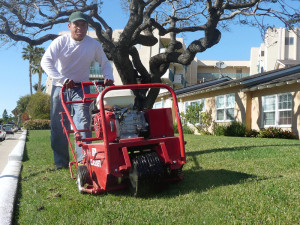 Sod Restoration / Aeration Thatching – We can take your existing sod and bring it back to life. With the right application of fertilizers and removal of damaging pests, your lawn can be beautiful again. Aeration is also a good way to bring your lawn back from the dead.  Having this application will allow water to go deeper.  It will also allow oxygen to reach the roots system with easy create a lush lawn. Having this done twice a year is recommended.
Lawn Aeration, or core cultivation, is standard lawn care. Aerating a lawn means supplying the soil with air, usually by poking holes in the ground throughout the lawn using an aerator. It reduces soil compaction and helps control thatch in lawns while helping water and fertilizer move into the root zone. A lawn can be aerated at any time the ground is not frozen, but should not be done when it is extremely hot and dry. Heavy traffic areas will require aeration more frequently. Aeration is most effective when actual cores or plugs of soil are pulled from the lawn. Holes should be two to three inches deep and no more than two to four inches apart. Lawns should be thoroughly watered the day before aerating so plugs can be pulled more deeply and easily. Mark all sprinkler heads, shallow irrigation lines and cable TV lines before aerating so those lines will not be damaged. On thatchy lawns, it is important to leave the cores on the lawn, allowing them to work back into the grass. Otherwise, the cores may be removed or left on the lawn. Lawns may be fertilized and seeded immediately after aeration. There is no need to top dress lawns following aeration.
Lawn and Landscape Maintenance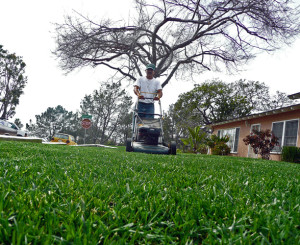 Your lawn will be the envy of your neighborhood. Let us bring that lush green color back to your landscape. We would be happy to provide you with our professional landscape maintenance services.  We have many service packages available, from a bi-weekly service weekly services, we can provide the services you need.   Why hire somebody that is not licensed to take care of your home? Our service packages are some of the most reasonable and you can also have peace of mine.  In most cases we find that our prices are very close, if not the same. We are a Licensed Landscape Contractor.  We are fully insured and we carry workman's comp insurance. Does your gardener?
We provide comprehensive solutions to lawn restoration at the right time of year:
Aerating Lawns / coring
Weeding Lawns
Fertilizing
Laying new turf
Scarifying
Diagnosis
The first step we take to lawn restoration is to diagnose the problem, then inspect how bad it is and offer the best solution. Because there are many ways to rectify a tired looking lawn, we specialize in this area and have had great results and feedback from our clients. Natures Elements Landscaping only uses the best coring machines, rotary hoes, scarifying machines and fertilizers. You can rest assured – if your lawn is not at its best, we can fix it, and we guarantee it.
Fertilizing
Don't run the risk of over fertilizing your lawn and or fertilizing at the wrong time of year, all you will be feeding is the weeds and little gains will be reaped. Natures Elements Landscaping will fertilize your lawns when needed. We know when the right time of year to fertilize is for both warm season and cool season grasses. Fertilizing at the right times will ensure your grass will last the cooler months and it will reduce the amount of weeds growing when combined with regular mowing and watering. Furthermore it is important to use a good quality fertilizer. Using a cheaper alternative gives you noticeably poorer results.
Scarifying- mainly couch
This process is mainly conducted with couch grass. It involves the removal of a build up of thatch. Thatch is a dead grass build up underneath the top layer of growing lawn. This type of build up affects underneath the greener grass.  Natures Elements Landscaping will rectify all these problems making sure your grass stays healthy and thatch free.
Coring
This is a process that we use to aerate the soil beneath your lawn. Aerating your soil is a great way to improve soil structure and get air down to the roots. Lawn roots need air too. In heavy traffic areas soil becomes compacted and roots struggle to spread and grow regular coring will loosen the soil and solve this problem.
Benefits
Transformation of yellowing grasses into lush dark green foliage makes for healthier grass over winter months and ensures correct nutrient balance for best growth
Maintenance Service
Besides all the other premium services we provide, we can help you with all your maintenance needs as well.  From weekly or bi weekly service, here is what we do:
Hand or machine pruning for plants.  We will correct the shape by pruning materials as needed.  Plant debris to be removed from area and placed in designated receptacle.
Plants to be inspected for pest.  Solutions provided or recommended.  All services provided or remedies recommended
Blow out / sweep areas and then remove debris from planting areas and curb parking areas
Irrigation system tested at valves and lines to be inspected for leaks.  Spray heads adjusted as needed.
Grass areas to be edged and cut at appropriate height.  We cut grass as needed (season changes may effect frequency at least twice per month)
Lighting system to also be inspected and to have bulbs replaced (If system existing)
Added Cost – These items will be considered an added cost and will be added to invoice:
Items done at an additional cost and not included as part of basic service
Cost of debris removal is and able to leave materials on site
Cost of light bulb replacement to be done per lamp – does not included cost of actual bulb
Irrigation repair or replacement of materials to be determined
Fertilizer application and weed control to be included, as needed, as part of landscape maintenanc
-Emergency service calls to repair or address stations that are out of the schedule visitNote:
Client is ultimately responsible and needs to insure that irrigation system is on and is working property. Client is to modify timer as seasonal changes occur. NEL has no plant replacement grantee for dead and or dying plants.  Any and all added materials are to be applied at a added cost to monthly service package.
Monthly services to start from $100 a month.